Black Pepper and Sea Salt
Our Black Pepper and Sea Salt Beef Jerky uses finely grained Kosher sea salt with dark aromatic black pepper. Served from only the most sought after cuts of steak and only 45 Calories per serving. This simple blend of peppery spice will have you wanting more. 
Shop Now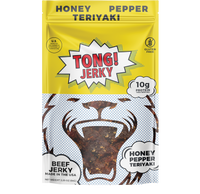 Honey Pepper Teriyaki
Our Honey Pepper Teriyaki flavor uses the sweet natural nectar of bees combined with dark aromatic black pepper. This flavor is the perfect marriage between sugar and spice. It starts with a smooth sweet taste and ends with a peppery hot finish that leaves you wanting more.
Shop Now
Spicy Sriracha
Our Spicy Sriracha flavor is for those who like it a bit hotter. We use the fiery spices of Sriracha to give you that hot yet tasty burn, coupled with a smokey BBQ aroma. This special flavor is the perfect combination of classic BBQ sauce with a spicy chilli twist.
Shop Now
Classic Recipe
Tong's Classic Recipe is the perfect blend of your favorite traditional jerky ingredients. Each tender strip will leave you with a mouth full of Tong's delicious taste. With only 1 gram of sugar per serving, this snack is the perfect supplement before or after a long workout. It has a great mix of spices that are tasty but not overpowering so you can taste the great quality beef.
Shop Now
What Is Our Beef Jerky?
Our gourmet Beef Jerky is always made using premium cuts of USDA American beef. Our Beef Jerky is creatively fused with marinades that are slow cooked to perfection. Following strict guidelines of quality control we produce a mouth-watering, superior and bold-flavored gourmet Beef Jerky that is soft and tender with every bite. You will love our great tasting, tender and flavorful gourmet Beef Jerky.
Gluten Free
100% Natural
High Protein
Low Calories
Made in USA
Connect With Us On Instagram